Are you considering a MidJourney subscription but unsure about the costs and benefits included with each plan? Look no further!
Here's a detailed breakdown of the MidJourney pricing, subscription costs, and some fine print. I've also included a quick comparison table and a MidJourney invite link. Let's dive in!
MidJourney Pricing: A Quick Overview
Besides a free trial, MidJourney offers three subscription tiers: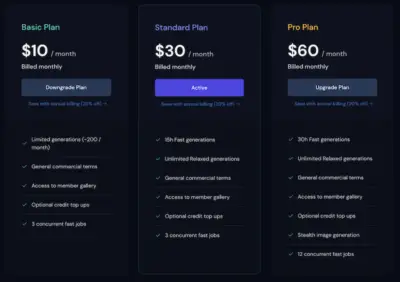 Basic
Standard
Pro
You can pay monthly or annually with a 20% discount for the latter. Each plan comes with many benefits, including access to the MidJourney member gallery, the official Discord, and general commercial usage terms.
MidJourney Free Trial
The Free Trial offers 0.4 hours of Fast GPU Time for a lifetime.
It doesn't include any additional features.
Basic Plan: $10/mnth
For $10 a month or $96 a year (which comes down to $8 a month).
The Basic Plan offers 3.3 hours of Fast GPU Time per month.
You can also purchase extra GPU Time at $4 per hour.
This plan allows you to work solo in your direct messages and rate images to earn free GPU Time.
Standard Plan: $30/mnth
The Standard Plan costs $30 a month or $288 a year ($24 a month).
It provides 15 hours of Fast GPU Time per month and unlimited Relax GPU Time.
Like the Basic Plan, you can purchase extra GPU Time at $4 per hour, work solo in direct messages, and rate images to earn free GPU Time.
Pro Plan: $60/mnth
The Pro Plan is priced at $60 a month or $576 a year ($48 a month).
It offers 30 hours of Fast GPU Time per month and unlimited Relax GPU Time.
The Pro Plan allows 12 concurrent Fast Jobs and three concurrent Relaxed Jobs.
All other features of the Standard Plan are included.
It also includes private Stealth Mode. You'll need this MidJourney subscription plan if you want to keep the images you create private. Without Stealth Mode, all the images you create in MidJourney are public.
Quick Comparison Table: MidJourney Subscription Plans
Subscription Plan
Monthly Cost
Annual Cost
Fast GPU Time
Relax GPU Time
Extra GPU Time Cost
Stealth Mode
Maximum Queue
Free Trial
–
–
0.4 hr/Lifetime
–
–
 
3 concurrent Jobs.
10 Jobs waiting in queue.
Basic
$10
$96 ($8/month)
3.3 hr/month
–
$4/hr
 
3 concurrent Jobs.
10 Jobs waiting in queue.
Standard
$30
$288 ($24/month)
15 hr/month
Unlimited
$4/hr
 
3 concurrent Jobs.
10 Jobs waiting in queue.
Pro
$60
$576 ($48/month)
30 hr/month
Unlimited
$4/hr
✓
12 concurrent Fast Jobs.
3 concurrent Relaxed Jobs.
10 Jobs waiting in queue.
MidJourney Subscription Plans Compared
Payment Methods Accepted
MidJourney subscriptions run through Stripe. The payments methods accepted are:
Mastercard
Visa
American Express
China UnionPay (CUP)
Discover & Diners
eftpos Australia
Japan Credit Bureau (JCB)
Note: Some countries have limitations or restrictions. To check if your country has any limitations, visit the official Stripe website.
MidJourney Invite Link
Ready to get started with a MidJourney subscription plan or free trial but need a MidJourney Discord Bot invite? Here's an invite link for you!
MidJourney Cost: What You Need to Know
If you're a company making more than USD 1,000,000 in gross revenue per year, you must purchase the Pro plan.
You can easily manage your subscription plan in your MidJourney account. Upgrade or downgrade at any time. Any unused Fast Time is credited to your account immediately when you choose to upgrade.
The unlimited "relax time" is a great option for creating as many MidJourney images as you want. It takes slightly longer than the "fast time," but the unlimited image generation is a huge plus for both the Standard and Pro plans.
MidJourney Subscription Cost: The Fine Print
MidJourney: Cancel Subscription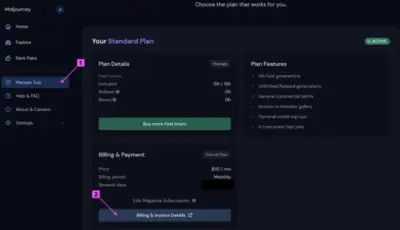 Cancellations are effective at the end of the current billing cycle, and subscription benefits like access to the community gallery are available until then. You're eligible for a refund if you've used less than 1% of your monthly GPU minutes.
You can cancel your MidJourney subscription within your account:

After logging in on MidJourney.com, click on "Manage Sub" in the sidebar.
Click on "Billing & Invoice Details" to be taken to a Stripe page where you can cancel your MidJourney billing account.
Getting More MidJourney Fast Hours
Remember, you can buy more Fast GPU hours for $4/hr if you run out before your monthly subscription renews. These purchased hours do not expire, but you must have an active subscription to use them.
MidJourney Pricing in a Nut Shell
MidJourney pricing options are flexible enough to cater to both personal and business needs. Whether you're a beginner or a pro, there's a plan for you.
Still not sure? If you'd like to experiment with MidJourney image creation before subscribing, try out a free trial first. That's how I got started. After a handful of image generations, I was hooked.
Start your MidJourney subscription and start getting your creative ideas out into the world!